Marketing method known as "Spray & Pray"is used by many organisations. They try a whole bunch of all tactics, on a whole bunch of customers, on all the times. When something works, they stick to it but when nothing works, they take up the loss and try something new until they find the magical solution.
The problem is that they never pay attention to the reason why certain campaign works well and other bring losses. They do not realise that something working now, may not work tomorrow or what not worked today may work tomorrow.
The essence is they don't think analytically.
Online travel agencies (OTAs) are no exception to the "spray & pray" methodology. In fact, OTA business have very complex conversion funnel as compared to any other e-commerce website, making their problem even worse. The main reason for the buying complexity is that travel booking is not part of impulsive buy product cohort. Almost all customers do their research before booking travel tickets as travel transactions involves significant money.
Every step of sales funnel ranging from ad click to ticket booking has significant churn rate. To understand attrition at every step of sales funnel, online travel agencies need to have a strong hold of analytics. Understanding key performance indicators (KPI) and their impact on business is very important in any business and online travel agencies are no exception.
Digital Marketing Analytics
Travel agencies can better utilise their marketing resources & they can strategise accordingly if they know answer to such questions. Agencies should know customer churn rate at every sale funnel step. There are numerous marketing channels e.g TV, radio, newspaper, facebook, google, bing, third party search engines etc. Various options in selecting marketing channels reinforce the requirement of digital marketing analytics by understanding multi-channel marketing attribution model.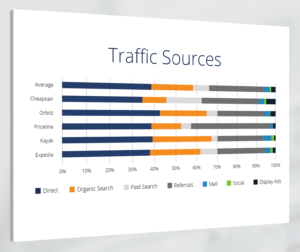 1 dollar of facebook advertisement expenditure is bringing what worth of business?
Key Performance Indicators
To understand digital marketing, one has to get hold on the KPIs. Each KPI has it own business objective attached to it, KPIs monitoring makes urgency to optimise business objectives it in its first place. Starting from acquisition strategy to retention, each has their strings attached to KPIs. Here is a list of few important KPIs which need to be monitored regularly
Customer Acquisition Cost (CAC)
Gross profit margin per dollar spent (GPM per $)
Life time value of customer (LTV)
Customer Retention rate (Cohort Analysis)
Adstock Rate
Booking Agent conversion rate
Above mentioned KPIs are self explanatory except Adstock rate. Lets understand what is adstock rate. Digital marketing does not give you immediate result. Here comes the adstock rate in picture. You got to understand the latency affect of each channel 's marketing campaign. Some channels have larger delayed affect in converting the sales lead as compare to other channels. Agencies need to know the adstock rate for each marketing channel for better marketing attribution modelling. We will cover adstock rate in detail in a separate blog.
The mentioned KPIs varies for each marketing channel e.g facebook may have higher retention but the CAC of facebook may be higher. OTA need to understand & create their marketing strategy accordingly. In certain seasons e.g. in Nov-Dec they may see large inflow of recurring customers as compare to other months so this type of analytics insight can help in moulding marketing strategy accordingly in those months.
Lead Scoring Algorithm
Imagine booking agents can see lead conversion score for every inbound lead on their screens. It is possible by making use of predictive analytics abilities. Based on historic trends of involved variables, we can predict the probability of lead to sales conversion. By predicting we can actually detach agent lead conversion skills. Pitching right product to right customer at right time can help in increasing the conversion rate resulting in increase in revenue.
Below mentioned data would be fetched for data warehousing to create a central database.
User demographic data e.g user age, income, marital status (company CRM)
User purchase data if any e.g transaction details
Purchase intent data e.g product enquiry, website visit, clicks, survey etc
Using Predictive propensity to buy lead score modelling, we can target right customer at right point of time. Right Discount selection based on lead conversion probability can also help in increasing overall profitability.
Chatbots
Yes, chatbots are not just fad. It can add value to your business in many ways. Considering travel leads coming to you from all across the world from different timezones, you have to employ people for 24 hours to manage demand fluctuations. Chatbots can fill that empty time gap. Chatbots can be used to filter junk leads to optimise human resources. Informative assistant can be another utility of chatbot for all travel related enquiries and chatbots can also be used as virtual travel booking assistant. By making use of deep learning techniques in NLP, chat bots can be made really smart.
Demand Forecasting
Demand forecasting is predicting the future demand for travel booking. If online travel agencies knew number of inbound leads for travel booking for coming days, they can manage their resources efficiently. By figuring out trends, seasonality & cyclical movements in historic data, one can better predict the future demand. Demand forecasting can also helps to optimisemanpower cost.
Customer Segmentation
By creating a customer persona and segmenting users based on that, can really help in conversion uplift. It is a very well know fact that if we target a selected user set for any campaign, it gives better ROI e.g. sending a direct mail detailing offers to users who have higher probability to respond to those offers, is better than sending direct mail to every user. Statistical clustering can be a good point to start, if you need to segment your users.
The mentioned techniques can help you to maximise business profit by boosting lead conversions for your online travel agency business. Do not forget to A/B test any change you are thinking to adopt.