Corporations across the globe are trying their best to look at the business from a customer-centric view. This exercise opens for them a window to peek into the interests of their clientele and create policies accordingly. But in today's volatile business environment judgments built simply from past experience or intuition is increasingly unreliable. Customers today are more connected and empowered. Access to the internet all the time has allowed them to become more specific about their needs. They are aware of everything that is trending in the market.
In such a scenario it becomes important for a business owner to predict a customer's response with respect to his organization. The deeper businesses understand their customers' preferences and lifestyle habits, the more they are able to attract potential buyers. However, it is not as simple as it seems. It is a big challenge for organizations to understand customer feedback, behavior and needs, well enough so as to make data-driven decisions about what customers are likely to respond to or what they are likely to purchase.
Customer analytics or customer data analytics is that significant insight gained with the help of data science, that allows businesses to use customer data in order to make key business decisions. The information obtained from the process is used for designing effective marketing campaigns, site selection, customer relationship management, and secure decisions for the future.
Insights pertaining to the customer's feedbacks and responses drive the organizations to directions that help them outperform their competitors. Strategizing everything beginning from their production to their supply far before the demand arises, helps them improve their key performing metrics.
---
Why Do We Need Customer Analysis?
We already know how important customers are to any business. But knowing how to attract more customers and retaining existing ones is easier said than done. Using customer analysis helps get a better insight into what a customer wants and how we can keep them happy.
Increase Customer Retention Rate
Around 82% of businesses said that retaining customers is cheaper than acquiring new ones. Moreover, 65% of sales come from existing customers. Having repeat customers is good for the business. But, for this to happen, providing the customers with what they want is important.

You have to understand their product preferences, their expectations from your business and find ways to prevent them from going to your competitors. Customer analysis helps answer these questions and increase the retention rate. The more you know your customers, the better you can meet their expectations.
Better Customer Segmentation
Segmenting customers and grouping them into different categories helps in targeted campaigning. There are different ways to segment customers-
Geographic segmentation: based on location
Demographic segmentation: based on age, gender, occupation, income, etc.
Behavioral segmentation: based on purchase history, search history, spending habits, etc.
Technographic segmentation: based on the technology they prefer for marketing-mobile, web, traditional, etc.
Psychographic segmentation: personal values, personality traits, etc.
Segmenting customers into neat categories is possible only when you know enough about them and their preferences. Consumer data points are vital metrics that provide insights into customer preferences and behavior.
The data points give enterprises a picture of the products preferred by customers, the frequency of purchase/ usage, and most used features/ functionalities, and so on. Customer analysis gives you the insights needed to know your customers.
Develop Personalized Marketing Strategies
Once you segment customers and prospective leads, you can plan a comprehensive marketing campaign for each segment. For example, sending emails to a customer who is old-fashioned and doesn't check emails every day is not an effective marketing strategy.
From choosing the marketing channel to determining the type of approach, customer analysis can help your sales and marketing teams fine-tune promotional tactics to increase market reach, sales, and returns. It also helps in understanding the market trends in relation to customer preferences.
Accurately Predict Customer Behavior
Customer behavior is hard to predict without using historical and real-time data. Customers decide whether or not to buy a product based on several factors.
Customer behavior is broadly classified into the following-
Limited Decision Making: customers deciding based on limited data available, mostly comparing two or three products
Extended Decision Making: customers spend a lot of time doing research and knowing more about the product before they decide if they want to buy it or not
Habitual Decision Making: things customers buy more like a habit or a routine part of their lives, such as groceries, accessories, etc.
Variety-Seeking Decision Making: customers who like to try similar products by different brands, either out of curiosity or for fun
Stages in Customer Buyer Journey: it is the steps a customer takes to buy a product. It is broadly classified into- Unaware stage, problem aware stage, and solution aware stage
Reduce Customer Acquisition Costs
As already discussed, acquiring a new customer is an expensive affair. However, knowing what the target audiences want can help reduce the acquisition costs. This is very useful for SMEs as they tend to have limited budgets for marketing and promotions. Acquiring customers means you need to spend on building a brand image that aligns with the preferences of your target audiences. Customer analysis provides you with the necessary information.

For example, sustainability and eco-friendliness are being given more importance by some customers. If the target customer base is eco-conscious, emphasizing transparency in the supply chain and highlighting the use of sustainable resources will help build the brand image as an eco-friendly business.
Enhance Customer Services
Almost 90% of companies say that customer experience is the key to customer retention. Contented customers are more likely to stay with the business or come back even if they exhibit variety-seeking behavior. Even if your products are of good quality and match customers' tastes, but your customer service doesn't meet their expectations, you are at a high risk of losing your consumer base.
Customer analysis allows you to streamline your customer service department and empower the agents to be more efficient at work. The insights derived from customer feedback will tell you exactly what is annoying them or what they expect for your customer service agents. You can use this information to hire more agents or train them to effectively deal with customers' queries and complaints.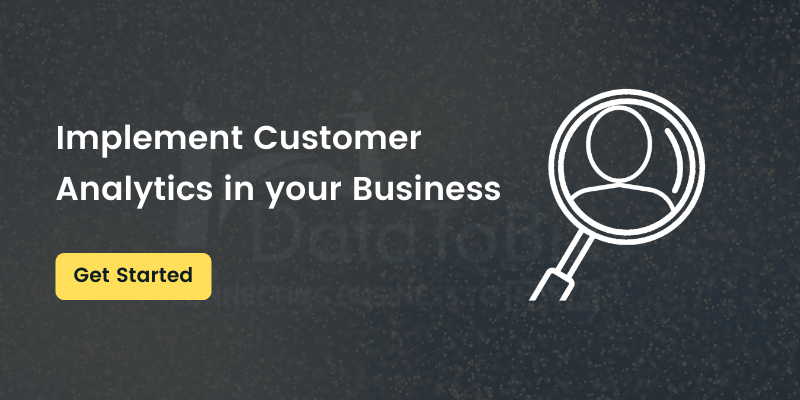 Accurate Sales Forecasting
When you acquaint yourself with your customers thoroughly, you can accurately predict the percentage of sales a product will generate. This helps in manufacturing, maintaining inventory levels, and calculating profits. Sales forecasting usually uses data from CRM systems, sales teams, and finance departments to get the complete picture. Moreover, enterprises can save money when making large investments in a product or service.
Revamped Product Portfolio
What if your customers want more features from your products? Could that be the reason they aren't buying your products? Maybe your competitor offers more choices in terms of color, sizes, designs, etc. Customer analysis also helps in making changes to your products and revamping your product portfolio. The customer analysis reports can aid your R&D teams in developing better products.
---
What are the Types of Customer Data?
Customer data is classified into the following four types:
Customer Identity Data or Basic Data
This is the data that's used to identify a customer. It is the primary information collected when the brand and customer have their first interaction. Details such as name, gender, location, contact address, email id, phone number, social media profiles, etc., come under this type.

Basic data is used to send promotional material, personalize emails and messages, and cross-check if you are the same customer who tagged them on social media. This data is collected through surveys, subscriptions, and feedback from first-time customers. For eCommerce businesses, basic data is collected when users create customer accounts on the website to place an order.

Customer identity data is normally stored in the CRM systems and is occasionally updated to ensure that the promotional messages are reaching the customers.
Customer Descriptive Data
Descriptive data describes the customer and gives more insights into who they are beyond their identification details. Information such as their occupation, age, marital status, education, lifestyle details, etc., is termed descriptive data. These details assist in developing the customer profile.
For example, the purchase history of a student is going to be different than that of a homemaker or an elderly person. Their preferred channels of communication will also not be the same.
Descriptive data cannot be collected as easily as basic data. You'll need to conduct in-depth surveys, interviews, etc. so that customers voluntarily share the information with you.
Descriptive data helps in accurately segmenting customers and predicting their purchase habits. Let's take another example of a chef and a hairstylist. Their primary product requirements are different, and hence their purchases will also be different.
Customer Behavioral Data
Behavioral data is useful in understanding and assessing the purchase patterns of customers. This is complicated data and is collected through techniques like website scraping, cookies, and more. Customer's wish list, items in the cart, cart abandonment frequency, repeat purchases, and searches, etc., help get insights into customer's purchase behavior.
When you know how many times a customer has opened the newsletter and clicked on the CTA button, used the discount code, or made a purchase will give you a better idea about what makes them buy a product.
This data helps in optimizing the customer's journey with the business and maintaining communication through their preferred channel. Online tracking tools are used to collect this information. Visual analytics is used to process the datasets to visually represent large datasets in various formats such as graphs, charts, maps, etc.
Qualitative or Attitudinal Data
Qualitative data is complex, ever-evolving, and hard to collect. This data will show you exactly why a customer picked a certain product or changed their mind and went to your competitor instead.
What motivates a customer to buy something? We are talking about their opinions, the emotional factors that determine the final act of purchase, and other such information.
Why did a customer choose the yellow top over the pink one? Why did a regular customer not buy anything in that month? How did the customer react to your latest business policy or a political statement?
The answers to questions like these come under attitudinal data and help have a complete picture of the customer. This data will change over time as customers' opinions also change.
---
Customer Analytics Types
There is a surplus amount of data available in both structured as well as unstructured forms to support the decision-making process. Structured data is quantifiable and organized in datasets for ready analysis such as customers' profiles, transactions, CRM, purchase history, credit, etc. Unstructured data, on the other hand, comprises almost 80% of the business information like text-based data from customer comments, customer surveys, email communications, tweets, online reviews or call center logs, etc. In the "customer analytics" process both the forms of data are merged together and analyzed to extract useful insights. How to interplay the strengths pertaining to data analytics, machine learning, and statistics to derive information that could build your business, solely depends on how the top management owns and makes these an integral part of their everyday routine.
Questions Customer Analytics Can Answer
Which customer segments are the most profitable?
Which customers are going to churn away?
Which customers are most likely to upgrade?
Which products will customers want next?
What is my customer acquisition cost?
What is the ratio of customer acquisition cost to customer lifetime value?
---
What is the Customer Analytics Model?
The customer analysis model/ framework has three major aspects or processes that determine your success:
Know Your Customers
The first step should always be about knowing your customers. That's where the types of customer data come into the picture. You need to do more than collect data. The process involves mapping the customer's journey at every stage, right from the brand's introduction to repeat purchases. Frame your objectives and start collecting data based on your objectives. Set short-term and long-term goals for customer retention.
Collect, Organize, and Process Data for Analytics
Once you identify your target customers and the data you want, it's time to collect it from multiple online and offline sources and store it in the central database. Data is gathered from kiosks, email clicks, online searches, forms, interactions, app activity, social media shares, and other sources. Some businesses also use third-party survey platforms to collect customer data for analytics. This data is cleaned, structured, and analyzed in the data warehouse to derive actionable insights that help in better decision-making.
Define Outcomes
Defining outcomes is a crucial stage to establish the customer analytics model in the enterprise. The outcomes can be classified as:
Descriptive: understand what happens during customer purchase
Diagnostic: know why it has happened (sales or the lack of it)
Predictive: forecast how the sales in the near future will be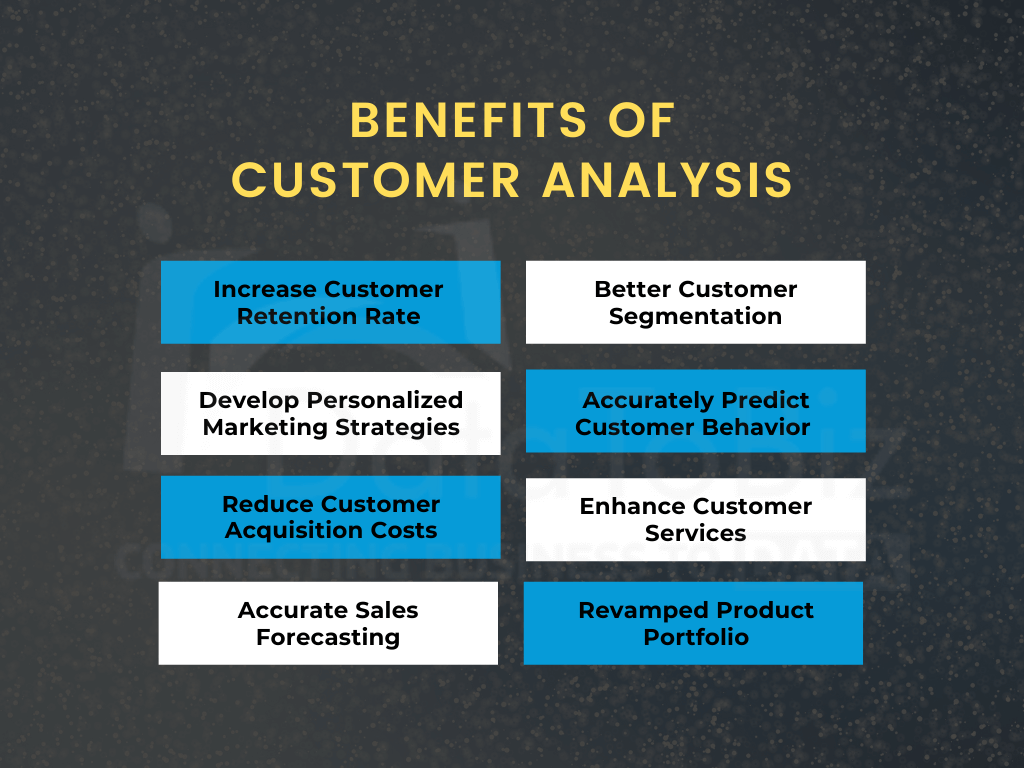 ---
Big Win Of Customer Analytics
For a better understanding of customer analytics and its applications, let us explore how it is utilized in different domains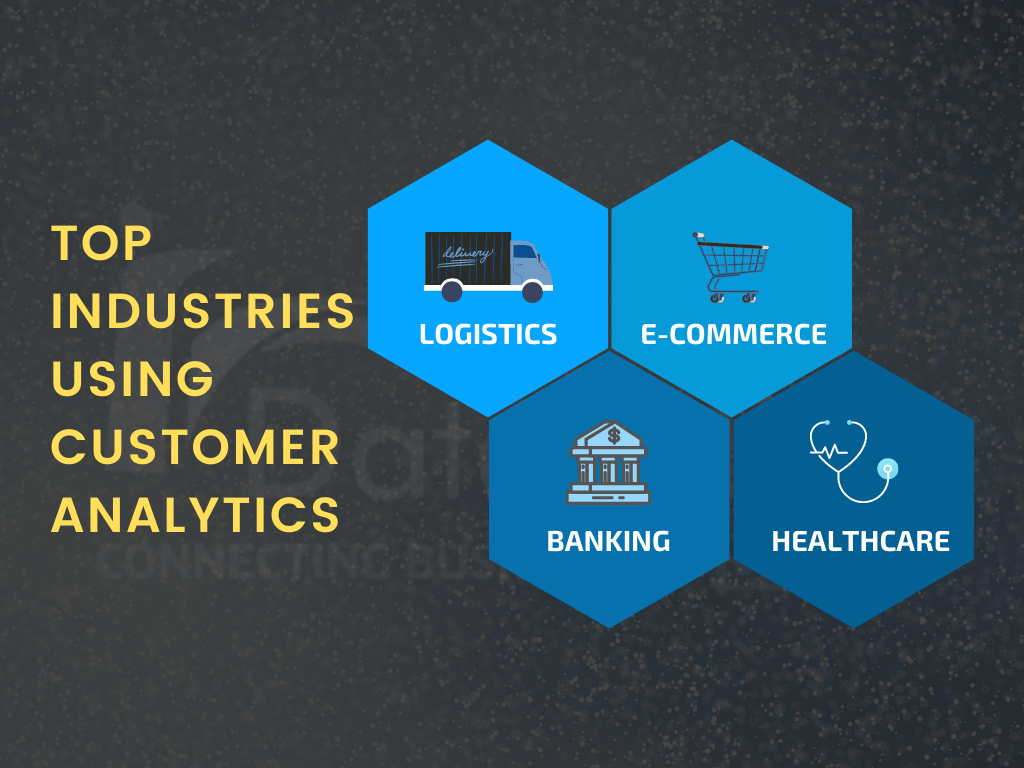 E-Commerce
The e-commerce industry is the one that has been exploring customer analytics to its full potential. Customer data is being utilized at every step of business decision making and that has surely been fruitful. For instance, the data like what a customer has purchased, watched, or stored on its wish list on an online selling portal offers the analytics to derive various conclusions. Some may include the demand pattern of a certain product, interests of the customer, product reviews, and much more. Based on these assumptions the machine learning algorithms and anticipatory models are able to offer recommendations to the customers. This not only enhances the experience of the user but also improves the chances of retaining customers. Some of the most successful e-commerce businesses that use customer analytics include Amazon, Flipkart, and Netflix, etc.
Healthcare
When we talk about applying customer analytics to the health care system, what is the first thing that pops up in mind? Who are the customers here? Anyone who is seeking medical treatment can be considered as a customer here. To understand the role of analytics in healthcare let us take an example. A lot of patients are undergoing a diagnosis of cancer every day some tests are positive and some negative. These results can be used for creating a prediction algorithm for checking the early onset of the disease. Every customer analytics approach that is used in the health industry is for the benefit of humankind.
Logistics Industry
There is no market without an efficient logistics industry. If a customer has ordered a product it must be delivered on time and in good quality. The logistics industry uses customer data to ensure that their vehicles reach out in time and offer good services. The customer reviews are utilized to understand the problems that arise during the delivery of products and find means to resolve the same.
Banking Institutions
Customer analytics incorporated into the banks' working has made handling finances easier for the client as well as the bank itself. The customer data analytics allows the bank to predict whether a person has the credibility to repay the loan based on its credit score and other parameters. It also allows creating effective marketing and sales strategies for their financial services. Rather than trying to sell any product the banks can now create campaigns as per their customer insight and attract potential clients. Risk management is one of the other advantages offered by customer analytics which allows the banks to predict probable fraudsters.
---
What and who makes the final impact
For all the businesses that aim to improve their market presence or widen their customer base, it is imperative that they focus on utilizing their customer data. Now, making use of the consumer desires and demands depends entirely on how the management decides to incorporate the relevant outcomes drawn from them by applying data science tools.
A thorough analysis done by marketing experts at McKinsey defines how customer analytics could make an impact on a business. They highlight, that the culture of utilizing the customer data and thriving your business on the road to meet the customer needs is the key factor that could move the needle of your business performance.
The top management of every business needs to inculcate the habit of extracting a quantitative insight from each of the customer parameters, so as to meet the targets each business sets. Benchmarking against your competitors to outperform them in meeting the consumer thoughts is what makes the difference and makes you stand out amongst the crowd.
Those companies, where the top management enforces data-driven policymaking are making marginal profits compared to those where evidence-based decisions run the management. That said, an organization's culture of going the data-way in their decisions finally makes the impact.
So, adding value to each product or service that you roll out for the customers, must be driven entirely by the value a customer or consumer has for your product. Monitor every behavior, sentiment, and feedback, define it, analyze it, and then make the moves a winner in the line must.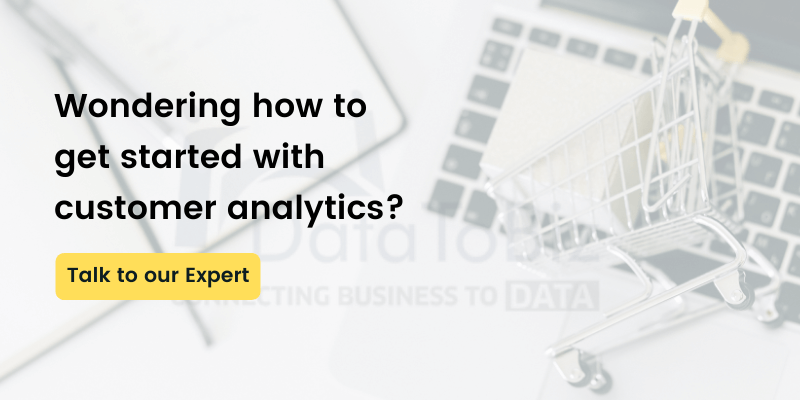 DataTobiz is one such helping hand any business venturing into the race of meeting the customer's eye, needs. Before you decide to put your money into sales and marketing, invent to understand your customer and let the experts draw for your path as to where and when to invest to make the impact you always wanted. To know more about customer analytics and how it could take your business ahead of those in the run, contact DataToBiz.