The healthcare industry is almost always under pressure to deliver better than before. Doctors, nurses, staff, etc., need to be accurate every single time. They are expected to make no mistakes but we also know that this is not possible.
Knowledge and experience have their limitations. But technology using artificial intelligence and machine learning can support and help the healthcare industry to be one step ahead at all times.
Healthcare predictive analytics is one such technology that is assisting doctors in offering better treatment to patients. Hospitals can streamline business operations and manage staff effectively.
Predictive analytics in healthcare is helping doctors be proactive instead of reacting when a crisis occurs. The aim here is to avoid and avert the crisis rather than minimize the damage once it happens.
What is Predictive Analytics?
It sounds fascinating to know that artificial intelligence, machine learning, and the Internet of Things (IoT) can improve medical care and empower the medical teams to deliver exceptional performance. But what exactly is predictive analytics?
As the name suggests, predictive analytics is a branch of advanced analytics that predicts future events by analyzing historical data. AI services, deep learning, machine learning algorithms, data mining, and statistical modeling are used to analyze this historical data and come up with insights for the future. Unstructured data is arranged in an easy-to-understand format for data processing and extraction.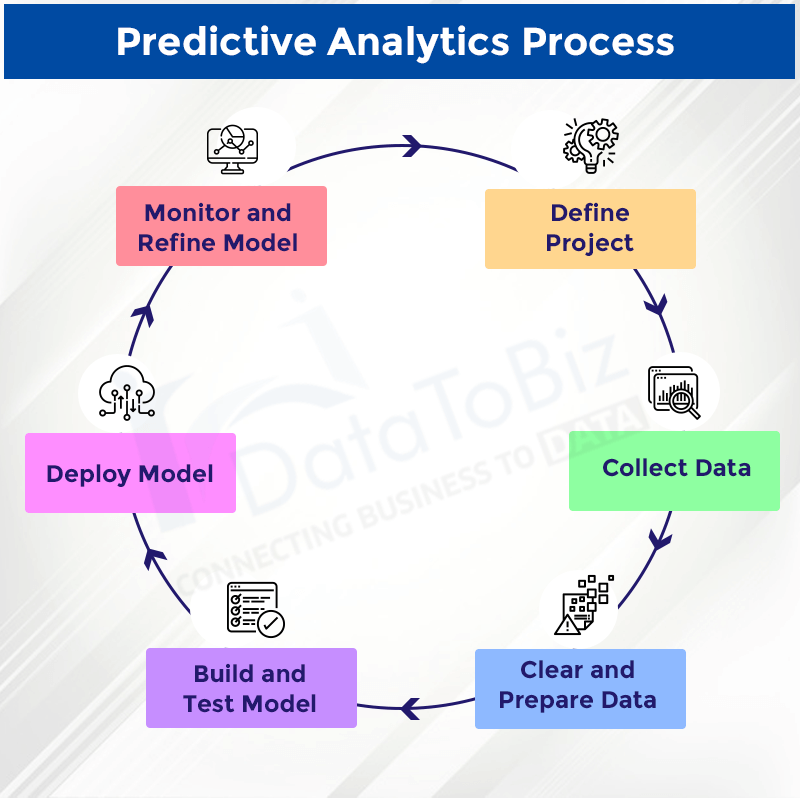 Predictive analytics in healthcare is used to identify at-risk patients in their homes so that timely treatment can be provided to prevent their re-admission. Similarly, it is also used to track the recovery progress of patients in ICU to detect if there are any signs of relapse or health deterioration.
How is Healthcare Predictive Analytics used?
Predictive analytics in healthcare includes processing historical and real-time data. It helps detect trends and find ways to contain the spread of diseases. Using predictive analytics in healthcare can improve the quality of healthcare, collect more clinical data for personalized treatment, and successfully diagnose the medical condition of individual patient. It also helps in keeping a tab on population health management.
Why is Predictive Analytics in Healthcare Industry Important?
A data-driven system is efficient in delivering quality care for patients. Whether it is reducing the waiting time or bringing down the percentage of readmission, predictive models in healthcare can help understand a patient data and provide accurate treatment.
Advantages of Predictive Analytics in Healthcare
There are various advantages of implementing predictive analytics in healthcare using machine learning tools and techniques, be it improving business efficiency or assisting doctors in providing health care services to each patient.
1. Selecting the Right Location to Set up New Clinics and Hospitals
Setting up a new clinic or a medical center is no small feat. The first step is to pick the right location for the establishment. If the management makes an erroneous judgment here, it could affect everything else and lead to losses. For a hospital to provide valuable services to the public, it needs to be closer to the target audience, easily reachable, and carve a place or itself among the competitors.
Predictive analytics can help the management in evaluating the prospective sites based on various factors. By studying how competitors are doing and analyzing the accessibility of the place (along with other details), predictive analytics in healthcare can give you the pros and cons of setting up the clinic at a particular location.
2. Improving the Business Operations for Seamless Hospital Management
Hospital management is probably the hardest of all. Even the smallest of mistakes and miscommunication could lead to life-threatening situations. Everything has to be in sync and streamlined to perfection. But it is easier said than done.
However, using advanced technology can make it possible. Especially predictive analytics in healthcare insurance has led to the patients, hospitals, and insurance companies working in tandem to process claims and avoid complications. Delays in processing and approving claims can be reduced to help patients get faster treatment.
Healthcare centers can have a stress-free work environment where recurring tasks are automated, allowing the staff to focus on delivering friendly and efficient customer service to the patients.
3. Effectively Managing Staff to Increase Productivity and Patient Satisfaction
If you are planning a new hospital, how many staff members do you wish to employ? Which roles and responsibilities are they going to fill? How many specialists should you have onboard, and how many visiting doctors can you hire?
And if the healthcare center is already established, there are another set of questions to answer. What are the productivity levels of the existing staff? Can you cut down the number of employees you have? Do you need to hire more?
Predictive analytics will help find answers to these questions and more. You can create a work culture that empowers the staff to be more productive. This lowers the risk of error and increases customer satisfaction. Patients who find the process hassle-free will naturally prefer your healthcare center over your competitors.
4. Identifying the Right Target Audiences to Promote the Clinic
As we already mentioned, promoting the clinic is just as important as delivering quality services. The primary step here is to identify who the target audiences are. Predictive analytics in healthcare organizations are recreating their marketing strategies to target those families and audiences who are more likely to respond to the ads.
For example, a child healthcare center should attract parents with young kids rather than senior citizens. The marketing and advertising strategies should be crafted to reach as many young parents as possible in the region. Instead of creating a blanket campaign to target all kinds of audiences, the healthcare center should create individual strategies to reach out to different types of audiences. Predictive analytics will help in formulating this strategy by showing which one is more likely to deliver the expected results.
5. Understanding Market Opportunities for Growth
Real-time predictive analytics in healthcare should not be limited to helping doctors and specialists. For a hospital or a clinic to be successful, it needs to do much more than have experts on board. Promoting the healthcare center is just as important. How will people know that they can approach your doctors to get a better treatment for their condition?
You need to understand the trends in the market, know which areas to invest in, how much to invest, and how to optimize the use of resources to deliver the best possible services. If your healthcare centers are located in multiple regions, you will need to identify which services are most essential in each area. This will depend on the market conditions like your competitors as well as the demographic and climatic conditions of the region.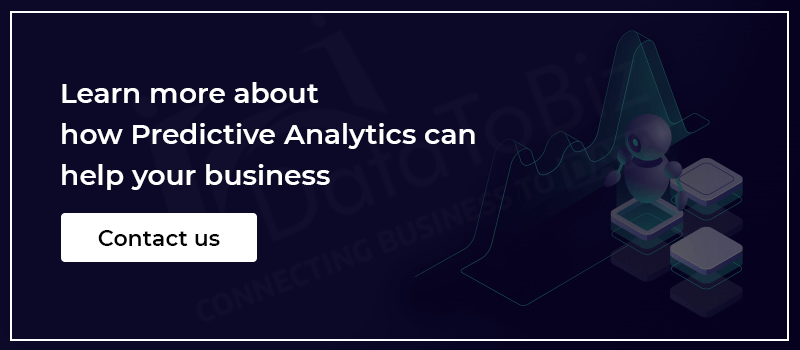 6. Finding a Better Cure for Individual Patients
Doctors now have access to technology that can help identify critical conditions before the patient's condition can take a turn for worse. Hospitals can build accurate models to reduce the mortality rate and provide correct treatment to patients.
The focus here is on considering each patient a unique case and creating a special recovery plan for them. While this is nothing new in the healthcare industry, doctors are finding it easy to use predictive analytics to offer quality treatment to every patient. Based on the existing health conditions of a person, doctors can identify if a particular medicine would work for the patient or if they can create a new combination of drugs exclusively for the patient. We have seen real-life examples of this during the COVID-19 pandemic.
7. Predicting and Analyzing the Risk of Outbreaks and Pandemics
The mention of the pandemic leads us to another important role of predictive analytics in healthcare research papers. Researchers and scientists can use historical and real-time data to predict outbreaks and the spread of contagious diseases. This can help governments take appropriate measures to control the outbreak and minimize fatality in society.
Various such tools were used by different governments to track the spread of coronavirus in an attempt to contain it and reduce the number of affected regions.
The data was shared between governments of different countries to work together to curb the pandemic from unleashing disastrous effects.
8. Eliminating/ Minimizing Wastage to Reduce the Investment
One of the major reasons for losses in healthcare is the amount of wastage that occurs every day. Defective equipment, expired medicines, and unused resources result in increasing the investment without bringing any proportional increase in returns.
Predictive analytics helps healthcare organizations in supply chain management to understand how the limited resources can be optimized to make the most of them and how wastage due to improper planning can be reduced by streamlining the business processes and systems to work in sync with each other.
Improving the supply chain management can lead to better coordination among the clinics and distributors in the medical field. When a hospital can predict the future trends in the market, it will be well equipped to deal with the changing requirements for medicines and treatment.
9. Analyzing and Controlling the Deterioration of Patients' Health
Machine learning algorithms have made it possible to predict the patient outcomes using health graphs based on the data collected about the person. Though doctors have enough experience to know that surgery or a complicated medical process could risk patients life , the exact extent of the risk can be measured using predictive analytics.
The medical staff can predict if the patient would survive and how long it would take for the person to become healthy again. Imagine a doctor being able to predict that a patient might suffer from a cardiac attack in the next few hours. Wouldn't the doctor be more alert and find a way to prevent the attack and save the patient's life?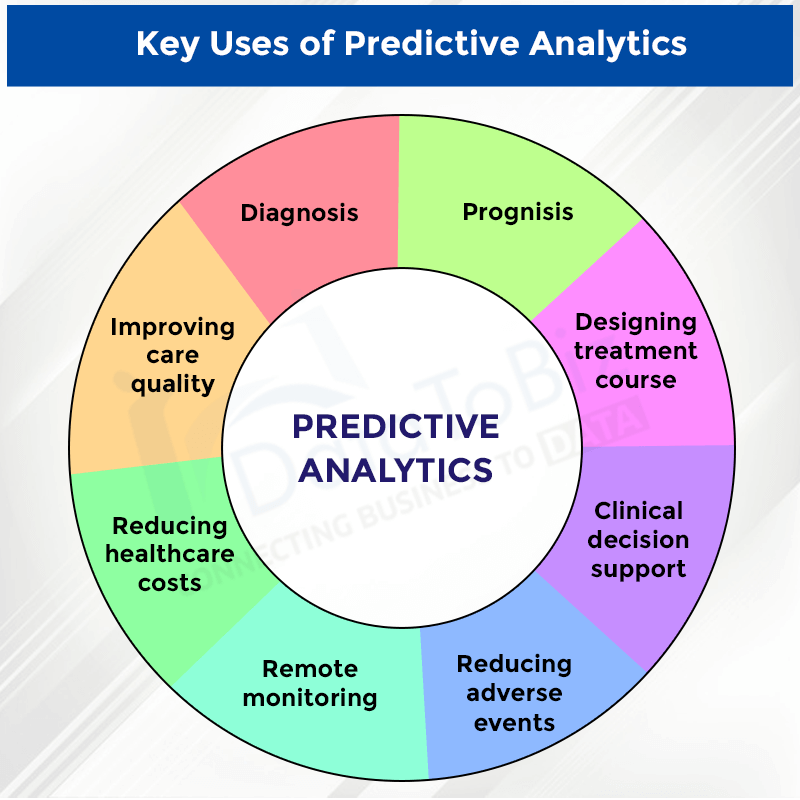 10. Medical Imaging for Accurate Diagnosis
Predictive analytics is already creating wonders in this area. AI tools are being used to gather information from images, X-rays, scans, etc., to identify and highlight minor ailments before they grow into life-threatening critical conditions.
By providing treatment in advance, the ailment can be controlled before it puts the long term health of patient at risk. This is specifically more useful in detecting which cancer patients have better chances of recovery and how they can be helped to get rid of the deadly disease. With active research going on to increase the use of predictive analytics in healthcare imaging, we are sure to see more advantages of investing in this advanced technology.
11. Long-term Healthcare and Monitoring for Patients at Home
Predictive analytics is not limited to the hospital setup alone. It can be used to provide continuous healthcare services to patients who stay at home. Many at-risk patients live in their houses rather than at the hospitals. This could be due to various reasons. But not all healthcare centers can provide proper long-term plans to assist these patients and improve their health outcomes.
Areas of Concern That Need to be Addressed When Using Predictive Analytics in Healthcare
It does sound wonderful when we talk about how much predictive analytics can help a healthcare organization. But there are certain problems with predictive analytics in healthcare that need to be solved before clinics can take full advantage of this advanced technology.
The first issue is with handling data. Hospitals will have to integrate the various data sources and automate the processes to ensure that real-time data is being collected and sent to the AA models for analysis. Formatting, structuring, and presentation of data are also essential if hospitals want to understand the insights offered by predictive analytics and implement predictive analytics in healthcare system.
Simultaneously, it is necessary to not breach the privacy of patients when collecting data for personalized medical treatment. With people becoming more aware of their data privacy restrictions, healthcare organizations should have adequate data security systems and ensure data privacy to patients.
Conclusion
It is time for medical organizations to adopt predictive analytics in healthcare system and build models that can deliver accurate insights and predictions. It is also essential to understand that no model is yet 100% error-free and can replace specialists.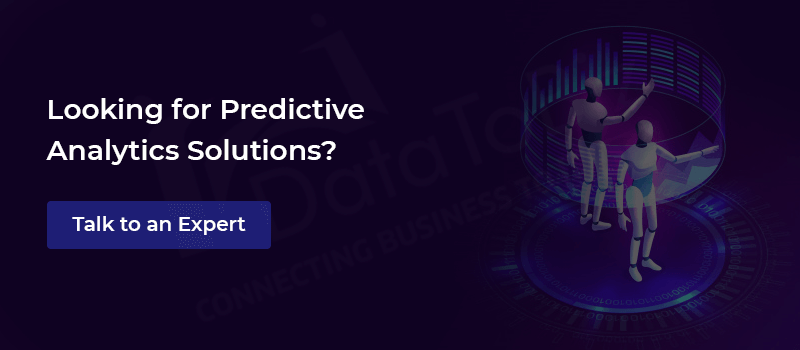 Contact the well-known machine learning consulting company in the market to integrate AI tools into your business systems and revamp the processes to have an efficient, streamlined, and synchronized business model in the healthcare organization. You can reduce the costs, improve customer satisfaction, and increase returns by adopting the latest technology.