Data Science, AI, and Machine Learning have now, become an integral part of the technology revolution in all industries. Capabilities of predictive analytics for all kinds of businesses have led it to become a hot topic of discussion. With more and more discussion going on about AI & Data Analytics, it has been attracting several business owners to hire AI & data analytics companies to help them get the best solution to their data-related problems.
However simple it seems, it indeed is one of the important decisions for a business as they will provide access to all their data to the data analytics consulting company they hire.
Before you decide to hire a data science company, you must understand what you need them for. This question can be answered by a simple consultation with experts, which every good data science company like DataToBiz provides for free or you can use a technique of isolating your question to figure out a specific problem you need to be resolved.
This way you will know exactly what you want from a data science & AI consulting company for your business. To make it more simple, we are here sharing all the things you should consider before hiring an AI & data analytics company.
Points To Check Before Hiring Data Analytics Company
Being data analytics experts, we are here to share in detail the points to consider before you select a data analytics company. So, let's start with the list of points to consider.
1. PinPoint The Problem & See If They Provide Possible Solution
When it comes to data science, it is all about gathering useful information out of the collected data. There are many things for which a data analytics company is hired for. Some hire them to build products that use machine learning, for example, the product that helps an application to transform speech to text, etc while some might need to develop a custom analytical as well as visualization platform to make strategic decisions on the basis of insights.
This is not all, you can also hire the data science experts like DataToBiz to gain insights about the business you do and use those insights to further improve the business operation. In addition to all this, you can also hire data science and AI experts to develop AI-based applications for your customers. Where the former is for the business end there, there the later one is developed for the customer end.
Let's discuss both these ends one by one.
Business & Statistical Analytics
For those who don't know what is business analytics, you will get to know now. BA that is business analytics is a process of exploring the data using statistical & operational analysis. 
What is the purpose of Business Analytics? 
Business Analytics is a process designed for the purpose of monitoring the business processes and using the insights from data that can help you make a well-informed decision.
What Are The Best Business Analytics Techniques You Should Know About?
There are two groups of business analytics techniques that every efficient data analytics company like DataToBiz must know about. These two groups include – business intelligence and statistical analysis.
The AI and data analytics company with expertise in business intelligence work efficiently on analyzing and reporting the historical data insights which in turn help companies make informed strategic decisions regarding current business operations and developments. However, the companies with specialties in statistical analytics bring on table more elaborate digging.
Where Can You Use Business Analytics?
Before you hire a data science company, you must know where business analytics can be helpful. Below is the list of issues where business analytics might come in handy.
Data management
Dashboards and scorecards development
Big data analysis
Price, sales, or demand forecasting
Client analysis
Sentiment analysis on social media
Risk analysis
Market and customer segmentation
Customer lifetime value prediction
Upsell opportunity analysis, etc.
Types of Business Analytics include – Prescriptive Analytics, Predictive Analytics, Descriptive Analytics, and Diagnostic Analytics.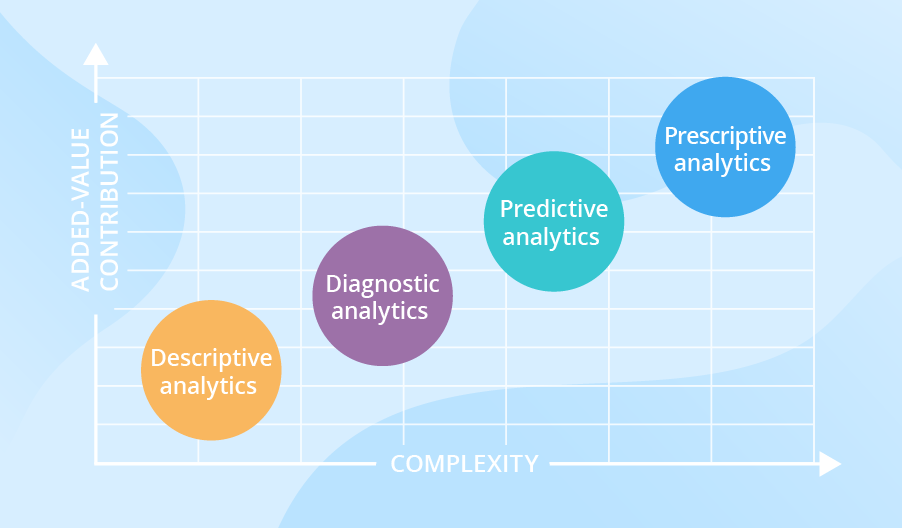 So, before you hire data analytics & AI consulting company, you must know the basics of what business analytics is about.
Customer End Applications & Fraud Detection
Mostly every customer end application is powered by the machine learning algorithms and is designed with the sole purpose of providing a solution to any of the problems faced by customers.
Every good AI and Data Analytics company must have knowledge of what customer-end applications need.
Some of the Cases In Which You Might Need Customer Facing Solutions –
Recommendation Engines usually used in eCommerce businesses and media service providers like Amazo, Netflix, etc. Check how Netflix is using business Data Analytics?
Sound recognition as well as analysis applications.
Speech to text conversion applications
Image editing applications
Image recognition applications
Application for Document classification
Applications for price predictions
Virtual assistants and text applications
Along with these applications, the customer end data analytics can also be used in fraud detection systems.

2. Check For The Off-The-Shelf Solutions Or Products Before Hiring Data Analytics Company!
Before you start hunting for the best data analytics company make sure that you have gone through every possible off-the-shelf solution for the problem you need to be resolved. There are several websites and platforms that list analytics as well as SaaS solutions like KDnuggets & PCMag.
In some cases where one uses CRM systems to collect customer insights, you must check with the vendor if they provide additional modules to resolve your problem.
What Is The Catch?
The catch in this off-the-shelf solution is that most of them do not support the functionality that you might need. This is where data science and AI companies jump in.
3. Check The Company's Portfolio & References!
Once you have shortlisted the company, you must check out for the portfolio of the AI & data analytics consulting company. Note that the data science consultancy company that vouches on having the domain knowledge not just delivers a solution but can also refer to product development and doesn't need a huge time to study and figure out the problem.
References – When you decide on hiring someone, it should be based on the references they get from their present and past clients. Not only this, the news articles, and press releases can also help you gather insight on how good the data science consultancy company is.
4. One-on-One Interview With Data Science Consultancy Company
Finally when the data analytics and AI company has crossed all these aspects, what you have to do is have a one-on-one conversation with the consultants to understand them better.
How To Judge A Data Analytics Company Through Interview?
When it comes to interviewing a company you wanna hire, make sure that you notice them on these aspects.
The consultants or experts must analyze and define whether the problem you face can be resolved or not with data science or AI techniques. For this, you must know how to define the problem and provide the best examples to make him understand. Studies have shown that a lack of clear questions for an expert to answer makes it impossible to come to any judgment.
Any reliable consultant would take his or her time to verify whether the client has enough and useful data to be analyzed. An expert will describe to you the scope of work while negotiating the contract terms. Experts who are good tend to study the problem research the scientific articles, feed the client data to algorithms and then present the preliminary results.
When it comes to hiring a data science consultancy company, make sure that the investment in the solution is viable enough with respect to time. So, make sure to calculate the difference between the spending and return on that investment.
To Conclude
Finally, as there are many data analytics company making promises on providing you with the best results, it is becoming more difficult for one to figure out which one is the best. Any good data science consultancy company will make sure to take time to see if the problem you are facing can be resolved using the data analytics techniques.
Some Additional Factors To Consider While Selecting Data Analytics Company
Some additional factors you mus consider Team Performance and training, Cooperative approach, and additional expertise.
We hope that this article was helpful and if you are looking for data analytics and AI company, all you can do is contact our experts. Get the best solution possible for your problem today.