Are you an early-stage e-commerce company's founder, looking to kickstart data analytics in your business. But you have your own notions regarding it and not able to do it? If you feel you have the right intent of being a data-driven business at your early stages, but gets stuck due to lack of proper knowledge, skills, resources and funds, then this is the right blog for you to read.
E-Commerce Challenges
As an e-commerce startup, founders are generally faced with multiple problems like
How to acquire good quality customers?
How to provide a better customer experience?
How to understand customer behaviour?
How to get the right quality of sellers on-board?
and majorly, understand what is working for e-commerce business and what is not.
How to solve the above challenges?
Almost all of these challenges can be measured and solved with the help of data analytics. A better data management strategy, optimised data storage and efficient usage of data is all any business need in order to measure the health of the business and take real-time data-backed decisions to improve it. Data science has the capability to bring most promising action-driven insights, which most of the founders miss due to engagement in their day to day operations, and help them to scale their business.
Founder's Dilemma: cost-effective data analytics?
Now comes the real problem. Having understood the capability of data analytics and its impact on the overall business, a founder faces a major bottleneck of allocating funds to data analytics. Most of the startup founders think that in order to become a data-driven organisation, they need a lot of funds to hire good quality analytical people, buy a licensed data analytics product, invest a lot in hardware and databases and then maintain it up to date for real-time insights.
The sad part is that in order to save the cost, most of the startup founders try to do this themselves using excel or with any other ad-hoc solution. But excel becomes unmanageable and not that intuitive once you reach a threshold quantity of data.  Moreover, getting into the nitty-gritties of excel, making visualisations and raw data capturing and understanding, a business owner starts deviating from the major goal of scaling the company and making it profitable.
DataToBiz At Rescue –
Below is the overall architecture diagram for a custom-built analytical platform we implemented for one of our e-commerce partners.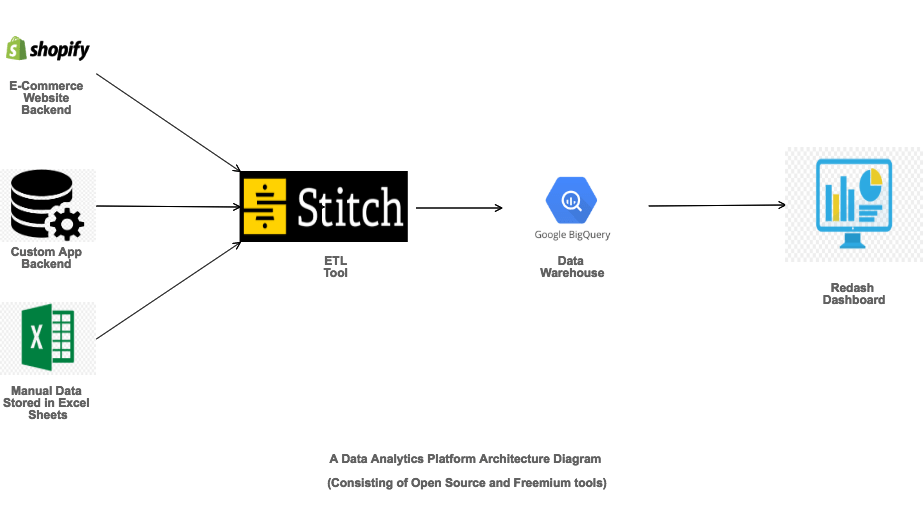 We made use of Stitch for ETL, Google big query for data warehousing & Redash for data visualisation. The major motivation behind this architecture is to mostly use open source technologies, freemium software and make the solution as much cost-effective as possible, without compromising the performance. Once we are able to set the data pipeline, warehouse all the data, optimise data model and its accessibility, we are able to bring so many real-time insights out of this. Following are the few important Business KPIs that we helped our partner with –
Customer Acquisition Cost vs Life Time Value analysis
Customer behavioural Cohorts
Loyal Vs Churned Users
DAU/WAU/MAU
RFM based strong business decisioning
and much more actionable Business KPI for e-commerce business.
Using this solution at a meagre monthly operational unbelievable cost of $299 along with inputs from our on-demand analytics experts, our partner is able to focus more on its core business and started improving it by taking data driven decisions.
Once a business is more comfortable with the data decisioning culture and start making the best use of the cost effective analytics platform suggested in the blog, they can think of implementing machine learning for e-commerce business. For such insightful and cost effective data solutions in other domains too, feel free to contact us.