SMEs are on the way to becoming data-driven enterprises by investing in data analytics and business intelligence. This move is to empower themselves to make better decisions based on reports generated by advanced data analytics tools.
Revamping the business systems and processes by integrating the latest AI, ML software allows enterprises to collect, store, process, and understand the vast amounts of data generated every day. Historical and real-time data from numerous sources is gathered in one place and processed using BI tools such as Power BI to gather valuable and accurate insights. In this blog, we will learn about the need for data integration and how Power BI can be used to implement advanced analytics with data integration.
---
What is Power BI?
Power BI is a product of Microsoft used for data analytics and visualization. The layout resembles an advanced version of Excel, belonging to the same company. The main job of power BI is to bring coherence to your data and present it in a visually appealing and compelling manner. It guarantees data accuracy, consistency, and reliability.
Though the software belongs to Microsoft, many data analytics and BI consulting firms are Power BI partners and help enterprises integrate the software into the business systems. You can take the assistance of these firms to enhance your business processes and become a data-driven enterprise.

---
What is Data Integration?
Data integration is an inherent part of advanced analytics. What will the tools process if there is no data available? But what exactly is data integration?
It is the process of bringing together data from various systems and sources within and outside the enterprise. Any data that is considered valuable for the business is collected from across the internet.
It is common for one department in the organization to ask permission to access data collected and stored by another department. Data integration makes it easier for employees in all departments to access any data they need to complete their work. The process is automated and streamlined to reduce human error and delays.
Advanced analytics is the process of examining data autonomously or semi-autonomously using tools and techniques that are beyond the traditional business intelligence tools. Advanced analytics is used to obtain deeper insights, make accurate predictions, and provide recommendations to the top management.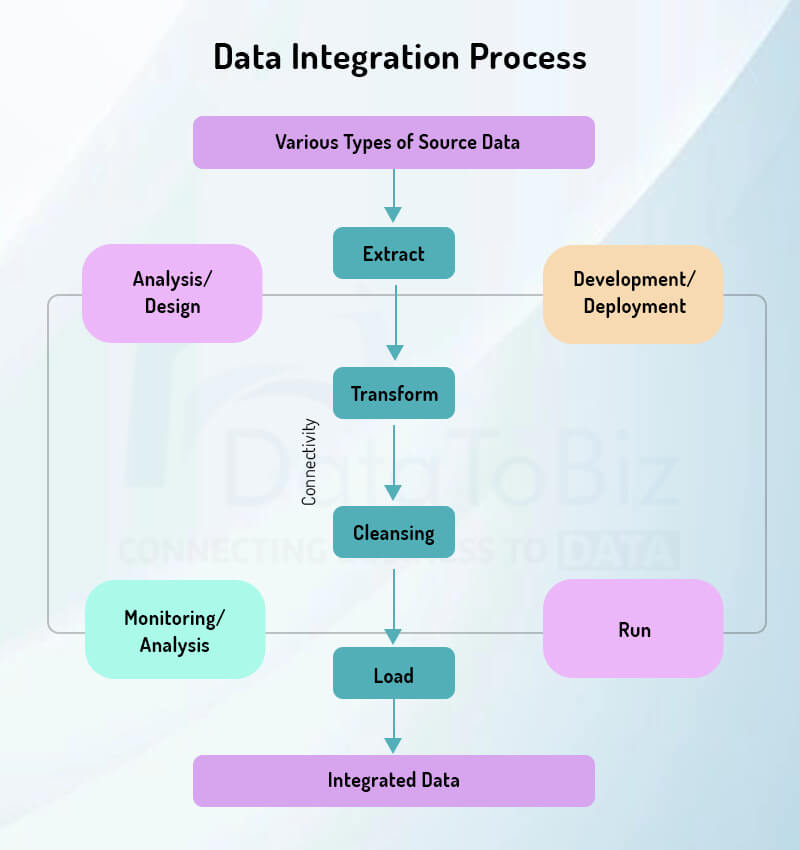 ---
What are the Types of Data Integration?
Data integration is not as easy as it sounds. But it is not impossible either. There are different ways in which data integration services can be provided. Let's take a look at the types of data integration in brief.
Data Consolidation
It is the process of physically bringing together data from different sources and consolidating it in one place. This reduces the need for excess data storage at multiple locations.
Data Visualization
It is the process of presenting data in an easy-to-understand and visually appealing manner so that it becomes easier to interpret data based on numerous factors.
Data Propagation
It is used for real-time data processing where information from one place is copied to another (data sharing). This is usually two-way communication between two systems or departments and is used for large amounts of data.
Data Warehousing
It is the process of cleaning, formatting, and storing data in data repositories such as in-house servers, colocation centers, or remote cloud storage servers. This is data integration.
Data Federation
It is a form of data visualization that uses data abstraction to facilitate a unified view of data from multiple sources. This data is analyzed and presented using tools like Power BI. Data federation is used when data consolidation is too expensive for SMEs to invest in.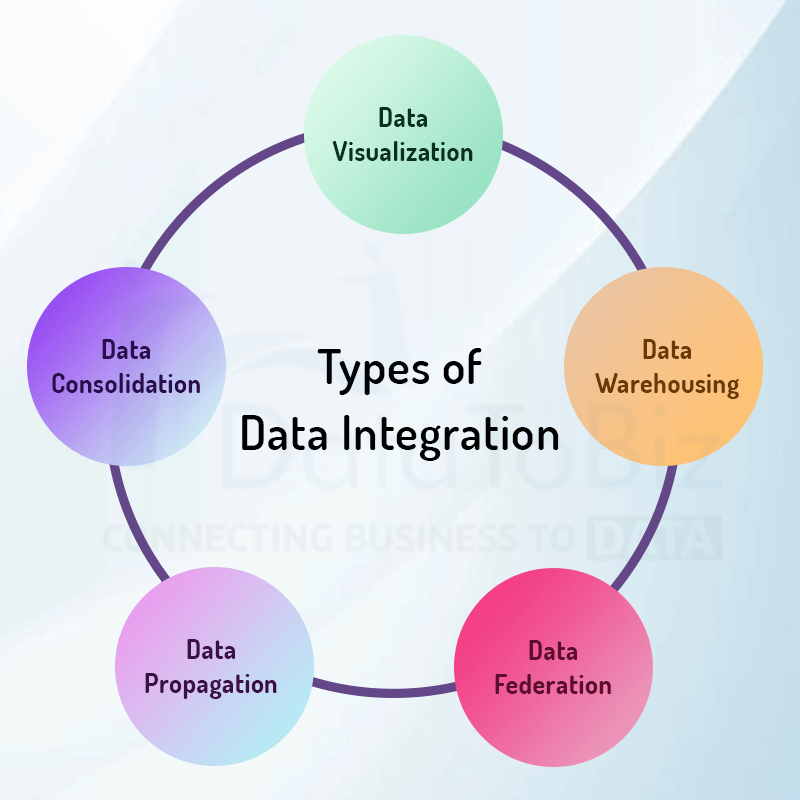 ---
What are the Benefits of Data Integration?
If data integration wasn't beneficial, we would hardly see organizations willing to invest in it, right?
So what are the benefits of availing the Power BI consulting services? How does it help enterprises in becoming better than their competitors in the market?
SMEs have to work with limited resources that make it rather difficult to compete with multinational enterprises. But data integration helps businesses become efficient in optimizing the resources to get more efficient outputs.
When data is seamlessly available across the enterprise, it improves communication and collaboration between different departments. It also leads to better customer services as the support staff has all the details required to deal with customers.
Any enterprise armed with data analytics tools is better equipped to deal with competitors in the market. It gives you an edge over others and lets you expand the business to newer markets.
When you can rely on reports and insights created by advanced software, you will naturally become a better decision-maker. You have a solid backing to support your decision. There is no need to work with outdated reports or copy a competitor without knowing how a decision will impact the business in the long term.
It is not easy to convince employees to adopt new procedures and systems at work. Power BI services from offshore consulting firms help train employees and make them understand the importance of working on advanced analytics. This increases the willingness of employees to adopt new technology and digitally transform the business.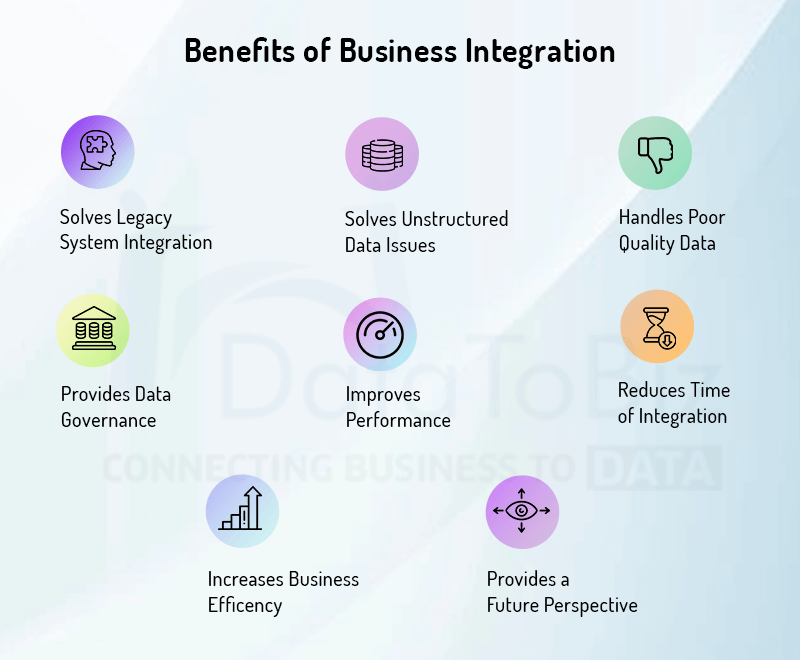 ---
Challenges of Data Integration
Do you know that about 2.5 quintillion bytes of data are generated every day? The US economy suffers losses of around $3.1 trillion per year due to the poor quality of data. Now is the right time to invest in data integration and advanced analytics. But it doesn't come without challenges of its own.
Data is available in different formats in different sources
You can't always find data where it is supposed to be
The data in the enterprise's database is outdated or not worthy enough
You might have been using the wrong systems to collect data
Your database has too much raw data, and most of it could be useless
So how do you find a way to work around these challenges? Power BI development services help you in overcoming the challenges by-
Cleaning the data, reformatting it, and getting rid of duplicates
Create a backup copy of the data and setting up auto-updates
Helping you choose the right software for your business
Assisting in continuously managing and processes data in the enterprise (data integration is not a one-time task)
Helping you follow the best practices to overcome various challenges and become a superior enterprise among your competitors
---
Glossary of Data Integration
While the actual list is extensive and includes hundreds of terms, we have listed a few terms regularly used by data and BI analysts.
Analytics
The process of analyzing data to derive meaningful insights and patterns from it.
Big Data
Vast amounts of data are collected from numerous sources and processed at high speed to get real-time insights.
Data Connector
A tool that works continuously to replicate data from a source to a destination based on the pre-set parameters.
Dashboard
A place where the summary of data analytics is presented. It is where data visualization takes place. The features and parameters can be changed on the dashboard to get detailed insights from the data.
Database
A storehouse of data collected by the enterprise and presented in a structured manner. This is usually done by computerizing the data to meaningfully fit it in rows and columns.
Data Model
Representation of the real world (data processes and transactions) in an abstract manner. These models help in preparing data visuals.
Data Mapping
The process of matching the fields in one database to another so that it becomes easier to import and export data between systems. This reduces errors caused by mismatched data fields.
Normalization
It is the process of structuring a database to reduce data duplication and data redundancy and improve data integrity so that employees can get accurate insights by logically connecting various elements to create patterns.
---
How to Implement Advanced Analytics with Data Integration?
Data analytics consulting firms that are gold and silver partners of Microsoft Power BI get into the Power BI showcase gallery where the tools and processes developed by these firms are displayed by Microsoft. The following are some ways in which Power BI helps implement advanced analytics for data integration in SMEs.
1. Integration of Data from Multiple Sources
We have already talked about multiple sources, right? Power BI is known for its ability to integrate different types of data from various sources. You can create a common data model for data analytics.
There is a feature called Power Query editor. It lets you add new sources to the Power BI to collect more data. This feature allows you to transform and edit data files even before they are loaded into Power BI. Of course, the changes made at this stage will not be reflected in the actual dataset. Your original data will remain the same until you decide otherwise.
Power BI gathers data from-
SQL database
Online platforms
Blank queries
Flat files
Azure cloud
OData feed
Active Directory, etc.
2. Interactive Desktop Power BI Tool
The interactive desktop Power BI tool is free to download. This lets you create reports in less time by easily accessing data. Also, you don't need to have the technical knowledge to use this tool. Power BI consulting firms use this tool to import and export data, make the necessary changes, and use the data visualization features to present the insights meaningfully.
Power BI is an effective tool that makes it easy to work on data integration and analytics. It is one of the best business intelligence software solutions that can be used in an enterprise of any size. SMEs, especially, find it easier to use this software as it is not as complicated as a few other tools in the market.
3. Customized Data Visualization
We have already defined what data visualization is. Presenting data in colorful graphs, charts, and models will help the top management understand the exact state of the business without reading through pages and pages of complex calculations and statistics.
Power BI, on its own, doesn't offer too many features for data visualization. However, you can access the custom library and design something exclusively for your business. You can create your own visualizations that help present complex analytics simply and effectively.
4. Interactive Dashboard
More than 120 data connectors can work with Power BI to collect data from third-party sites and servers. And once you create the custom visual to present the processed data, you will need to upload it to the dashboard. The custom visual will then work the same way as the default visuals do. You can use filters, highlight the key points, change the formatting, and do much more through the interactive dashboard. You can contact the data analytics firms to assist you in data integration and visualization. The Power BI consulting rates depend on the volume of data, the amount of work in the process and the number of hours the consultants will spend on the project.

5. Automated Data Integration
Why let your data scientists spend hours and days just cleaning data so that it can be analyzed? By the time a batch of data gets cleaned, it would become outdated. Data analytics consulting firms can help you automate data integration and schedule them in advance.
You can set up the parameters for data integration choose the sources, the frequency of updates, and make sure that everything is presented in the format of your choice. This helps in aligning the imported data with the rest of the data in Power BI.
Build Data Analytics Capabilities
Understand the current state of the business
Pick a starting point to implement data analytics
Ask relevant questions and listen to the answers
Accelerate data insights
Improve visualization to increase user experience
Build a strong data-driven and fact-driven culture
Practice and implement the right analytics for your business model
---
Conclusion
Power BI is an agile and quick tool that lets you process data in real-time and derive valuable insights. It is a cost-effective solution for SMEs that want to adopt the latest technology without spending more than what they can afford.
The success of the integration process depends on the Power BI implementation partner you choose to help you. The aim of data integration and advanced analytics is to make the enterprise effective in the long run. You will need to hire the best consulting firm for the job. Do your research and make the right decision. You will see the desired results very soon.