In an age where data is the determining factor to make decisions, analytics is crucial for firms to grow. Data analysis involves discovering, interpreting, and processing data to reach a conclusion. Until a few years, back business and data analysts had not many tools to choose from to organize and interpret their data, thereby aiding in decision making.
But then Microsoft launched its business intelligence tool in 2013 which combined new features with several add ons of Excel to form a completely new platform.
The demand for Power BI developers has increased by many folds in recent years owing to the rate at which firms are adopting business intelligence. For those industries which do not find the need to apply BI in their daily operations, outsourcing it is one of the options. But how would you decide if the outsourced firm or individual is the right way to get your job done?
Power BI consultants have different levels of experience which is valuable to firms in respective ways. You need to be familiar with the way they work and their experience before you commit any finances.
To help you get access to the best Power BI services, we have compiled some important questions and expected answers from a Power BI consultant. Take a look…
Basic: Consultants with 2-3 yrs experience.
1. Why should I use Power BI?
As a business intelligence tool, Power BI helps you convert raw data, like that from an Excel sheet, into interactive insights. The primary reasons for using the Power BI tool are…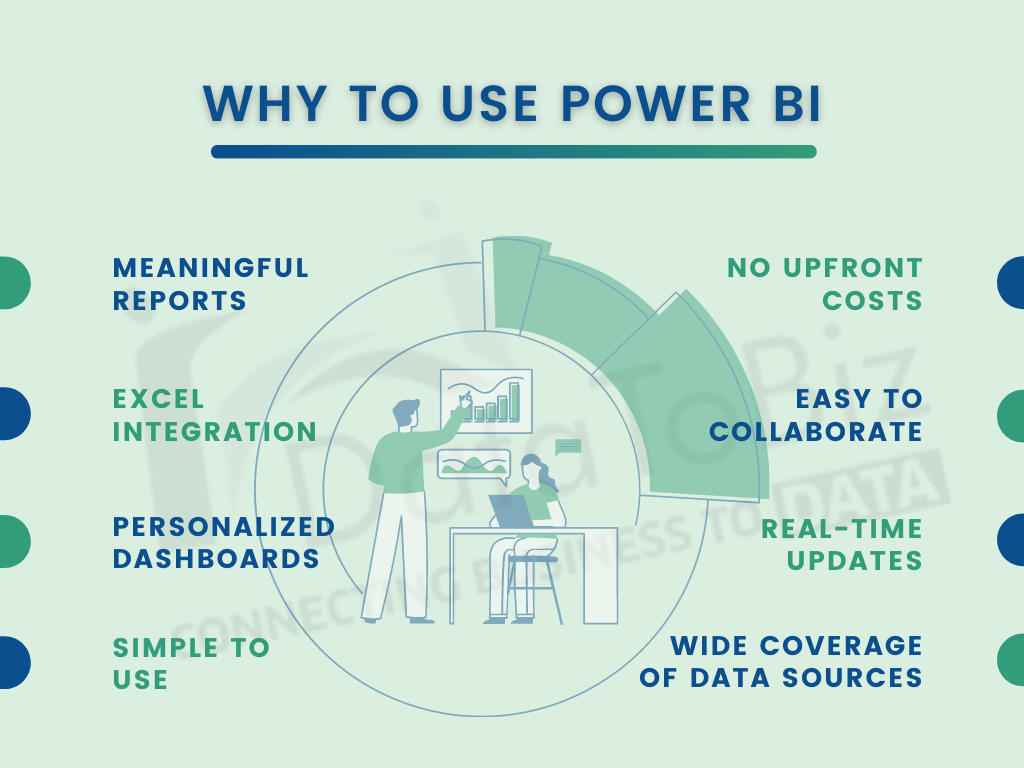 Customized dashboards and reports for SaaS solutions.
Real-time dashboard updates.
Offers a secure and reliable connection to your data sources in the cloud or on-premises.
Fast deployment, hybrid configuration.
Access from anywhere, anytime in a fully secured environment.
Provides data exploration using inputs in plain or natural language.
2. What would suit my requirements better – an in-house Power BI resource or outsourcing it to a Power BI services firm?
Recruiting an in-house Power BI consultant has its own benefits and disadvantages. To talk of benefits, I would say the response time of the team is better, they can be involved in internal and external projects, and are flexible to adapt to your corporate culture.
However, more than anything, when you are hiring a Power BI specialist, the candidate must have specific skills, and they don't come cheap if they are well skilled.
Secondly, there will be a time when your business expands. In such a situation you might have to re-engage in recruiting or expanding your team.
On the other hand, outsourcing it to a firm that specializes in data science tools and services gives you access to a fully equipped team with experts in every field. This also helps in saving a lot of money and efforts you'd put in otherwise.

However, it is observed that following an agile methodology works best when you're outsourcing service for this helps in avoiding delays and disruption of deadlines.
3. What are the essential applications of Power BI?
Power BI is mainly used by industries where data is considered as fuel for daily operations, like Airline, Hospitality, Retail, Healthcare, and so on. It is widely used by data and business analysts to monitor performance, and drive growth in an organization. To summarize some of the top roles that make use of Power BI are…
Business and Data analysts
Developers and database administrators
Professionals in the departments like Finance, Admin, IT, and Accounts.
Data scientists
Consumer for end-user support.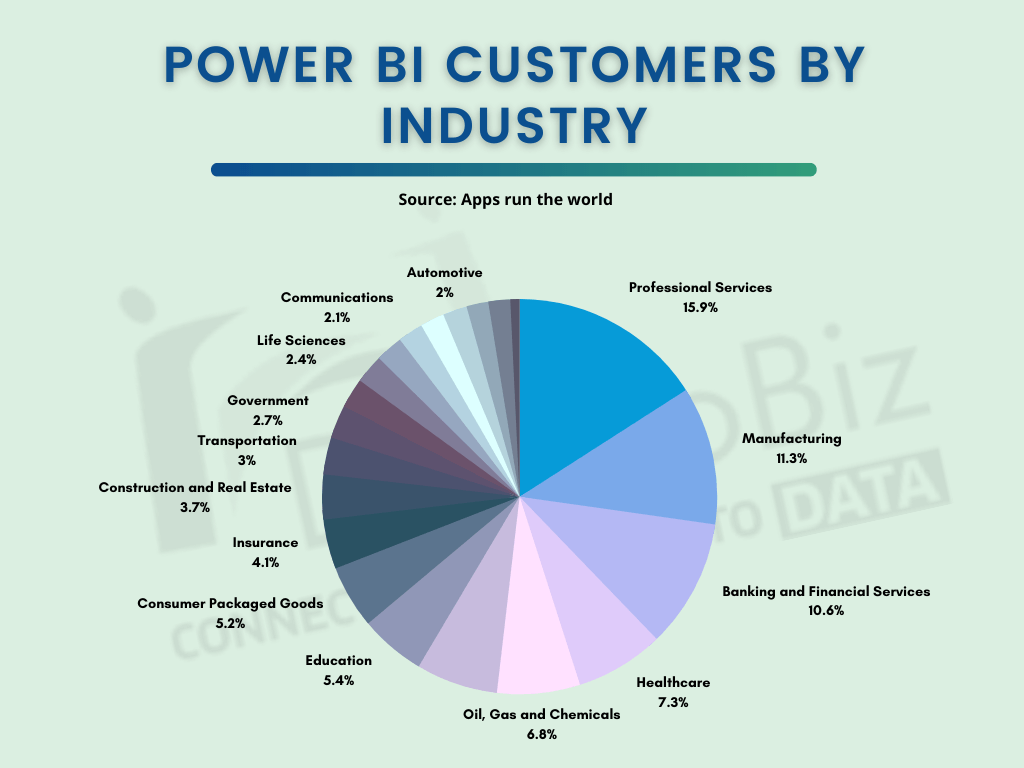 4. What are the drawbacks of using Power BI for a small or medium firm?
One of the major disadvantages of Power BI is that even though it's easy to use for simply importing data and creating reports, it is complex to master for other functions. When the purpose of using this business intelligence tool is much more than creating interactive visualizations from raw data, Power BI is an entire suite with a lot of interrelated functions like Gateways, Report server, Power BI services, etc, which you'll need to learn.
5. Name some important components of the Power BI toolkit along with the function they perform.
Power Query: This allows you to discover, access, and interpret information from different sources.
Power Pivot: A data modeling component.
Power View: A presentation tool to create charts, tables, and other visualizations.
Power Map: Helps in adding geolocation to your data.
Power Q&A: This allows the user to ask questions in plain language and get answers accordingly.
6. What are the types of data Power BI is compatible with?
Some of the major data sources used in Power BI Desktop are…
All
File
Database
Azure
Power BI
Online services
Mid-level: Consultants with 4-5 yrs of experience
7. What is grouping? How can my firm benefit from it?
A component of Power BI, Power BI Desktop allows you to collect data and organize them into small groups. In a firm that has cross-functional teams, grouping can be a way for both teams to view and extract data crucial for either. Just Ctrl+click to select multiple elements in the visual and right-click to see which of them appear on the group's window.
8. What is the purpose of the 'Get data' icon in Power BI?
When users click on the Get-data icon in Power BI, the drop-down menu appears showing all the data sources from which data can be extracted and used. These could be in the form of an Excel, CSV, XML, JSON, PDF, and SharePoint formats. It can also be sourced from Azure and other online sources.
9. Will my security be compromised if I try to access my Power BI from a remote location?
Data security is one of the things that make it to the list of compulsory must-haves in a firm. Power BI lets the user track and control the usage of data by allowing access only to those who have been granted so. It also gives a user the flexibility to save data on the cloud and prevents exposure of sensitive data by blocking risky user activities in real-time.
10. What is row-level security?
Row-level security restricts data that a user can view or access by using filters. In order to configure row-level security users can define rules and roles in Power BI Desktop while having the ease to publish it to Power BI service. However, to install row-level security a Power BI Pro subscription is required.
11. What is DAX? Will using it prove fruitful for my firm?
Data Analysis Expressions or DAX can be used to query and return data by a table expression. Mainly used by Power Pivot, DAX can perform basic calculations and data analysis on the input data, apart from being able to compute calculated columns, fields, and measures.
If you ask about its drawback, DAX cannot be used to modify or insert new data. It may prove beneficial for your firm if you constantly use some formulae to compute the final data for analysis or calculation.
12. Can you analyse Power BI reports data in Excel?
Yes, but you will need to install an extension or update. In the Power BI service, navigate to the dataset or the report you wish to analyse in Excel, and then follow these steps…
Open the Power BI Admin portal, go to settings and click Analyze.
If you have Power BI Administrator enabled, jump to the next step. If not, click settings to download and install Excel updates.
Next, go to the navigation panel on the left and select the dataset from the workspace. Click on the three dots and select Analyse.
Once the ODC file is downloaded, you may access it by providing your Power BI user id and password.
Pro-level: Power BI Consultants with 8-10 yrs of experience
13. Managed Enterprise BI or Self-service BI – which is better for my organization and what product shall I choose?
Both Managed Enterprise BI and Self-service BI are used by companies depending on their primary motive to use business intelligence. As a data science consultant, I would suggest you look into your requirements, and then take these into consideration.
In a Managed Enterprise BI, data flows from an abundance of sources and for this very reason, there is no specific order in which firms ingest and manage their sources. However, in a Self-service BI ingesting data from any data source is a seamless process. Firms have the freedom to take in data from any source in any format.
Secondly, quite often in a MEBI, firms fail to conduct their business operations effectively as they cannot report and analyze data or collaborate to collect valuable insights from it. In a Self-service BI analysing data is easy and can be done implicitly helping firms conduct business operations easily.
Complex programming skills are required for generating reports in a MEBI setup, whereas in a SSBI environment users can generate reports, create intuitive and actionable dashboards without having to execute any complex programming.
So, an SSBI would be your best go-to option to work around data. And Power BI is a versatile product that you may use.

14. Can we expect an update on embedding Power BI dashboards and reports in online presentation tools?
Microsoft is working on enabling secure embedding in online tools like SharePoint. As of now, they have deployed some trials internally and will be putting it out for use once they have covered all limitations of the current edition.
15. We have been using Power BI but can't figure out why general formatting should be applied to data in Power BI?
Formatting data in this tool helps users to categorize and identify data, making it much easier to work with.
16. How can we commonly shape data through Power BI?
Some of the most common data shaping techniques involve removing columns and rows, adding indexes, and applying for sort order. The process of data modeling involves loading, shaping, cleansing, and enhancing the data.
Power BI allows loading data from multiple sources like files, web, Azure, online services, and datasets through two means- importing or direct query. Shaping comes next which is done to support better reporting.
Data shaping can either be done while importing the data or after they have been loaded. The latter includes…
– Combining tables with the same schema
– Filtering rows and columns
– Merging queries
– Fixing data types; and
– Renaming columns.
17. Is Power BI Designer useful?
Power BI Designer is a new and flexible tool under the Power BI umbrella. It empowers users to create intuitive reports and dashboards, easily without consuming much of their time.
That apart, Power BI Designer also provides the platform to change visual views of the user's data easily at their fingertips, enhancing better analytics and informed decision-making.
The Power BI Designer is a host of drag-and-drop capabilities that help users place content exactly where they want to. So, if you are looking for excellent visuals for your data, you may install Power BI Designer and start using it. A lot of data science consulting firms recommend it, for this very reason.
18. What are the prerequisites for connecting to a database in Azure SQL?
Just one thing is very important. Before connecting to a database in Azure SQL, the user must configure firewall settings to allow access from remote locations. This could also be limited to only those users who are required to work on it.
19. Power BI has seen a lot of growth since it was launched? Is there any chance we can change the Menu bit?
Technically, no. Agreed that the menu has gotten a bit cluttered with all the functionalities they have added in recent years. But the parent company, Microsoft is looking at ways to structure it better, especially when it comes to formatting and layout options.
These are a few noteworthy points you could use to interact with a Power BI consultant or Power BI consulting firm before hiring them. Of course, finances are also an important part, but that depends on the budget you are willing to spare.
Outsourcing the Power BI services to a data science consulting firm or individual would give you different experiences. A data science consulting firm would not only be able to understand your requirements well, but also brainstorm on the problem statement and solution, and provide you with its best.